Use our exclusive 20% Off Wondershare Dr.fone – Android Toolkit Discount Coupon Code 2019 to save your money when you purchase this software at Wondershare online store now. Normal price was $79.95. Now is $63.96 only. You save $15.99 with our code. Don't miss it!
How to activate coupon codes on our site?
Answer: Simply follow 4 simple steps to activate our discount coupon code:
Step 1: Click "Get Coupon" at top right corner of this post.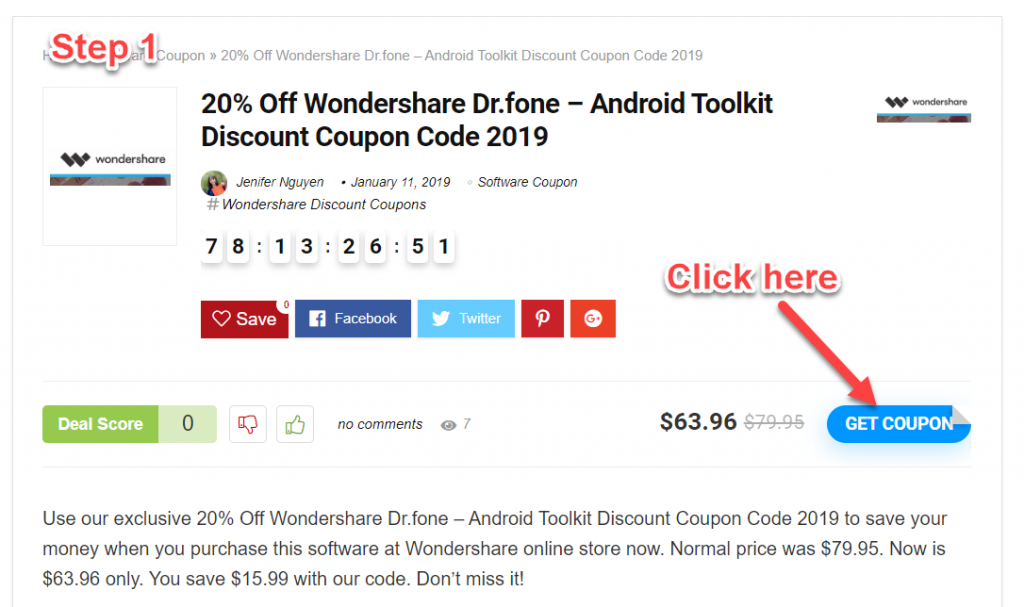 Step 2: Select "Use code on page" at the pop-up window.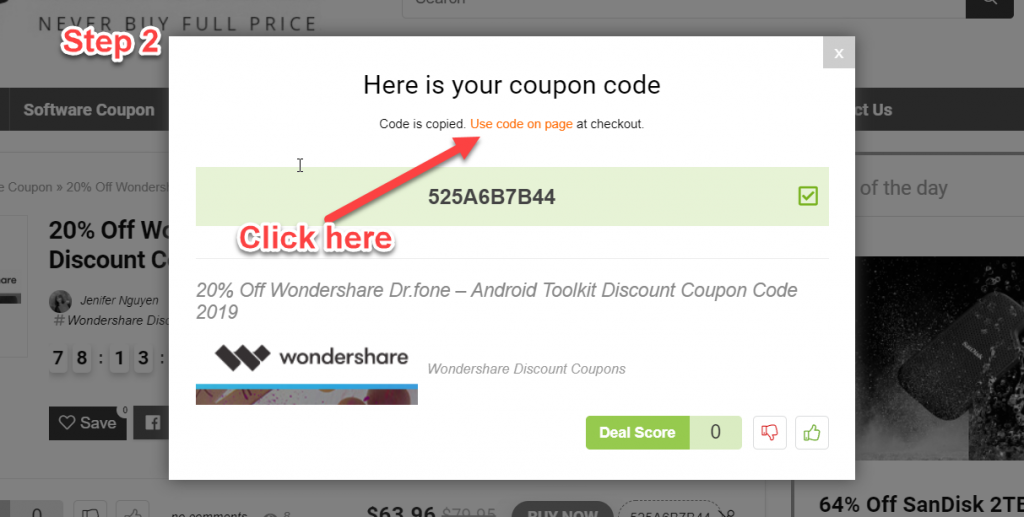 Step 3: Check the box" I have discount coupon", then paste the code at the empty box, refresh your cart to see the discount.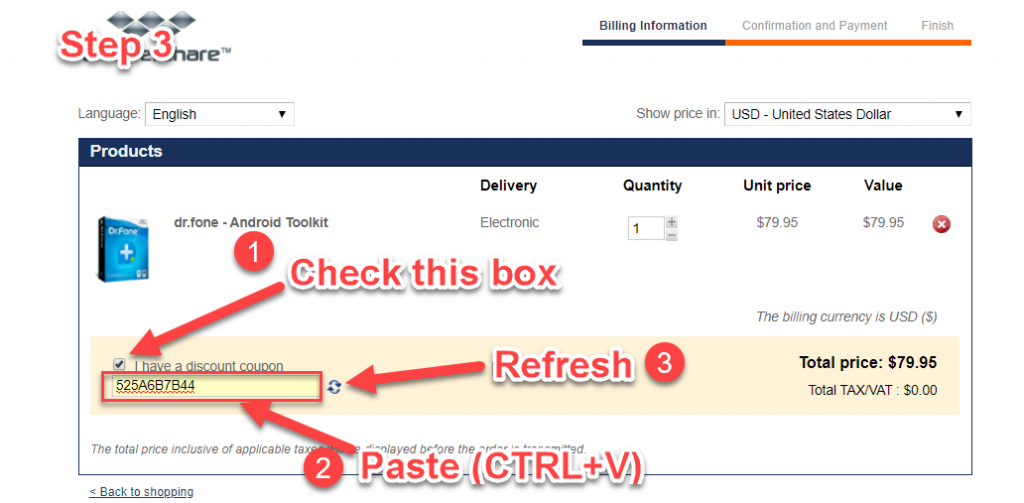 Step 4: Finish your order by filling necessary payment information.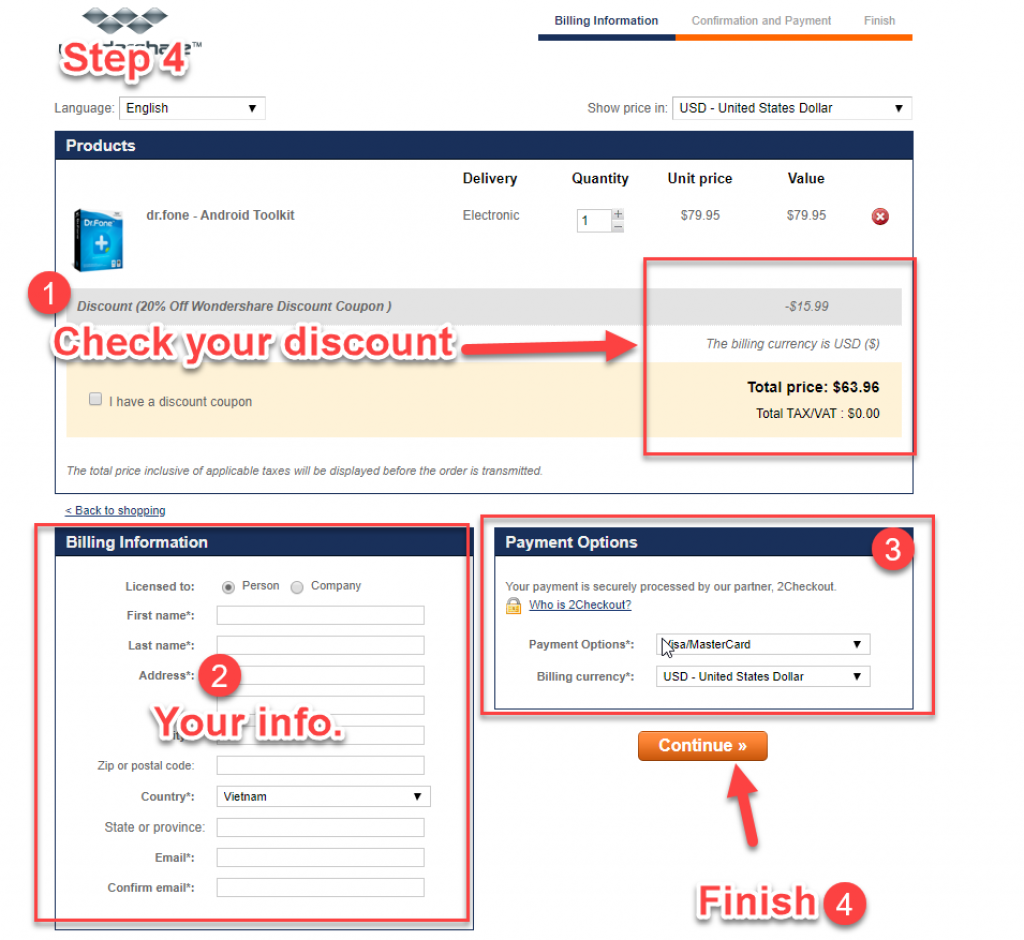 Finally, wait for the license key from Wondershare, which will be sent via the email address you select.
Android Toolkit
Android Only
Recover Android Data
Recover deleted data from Android devices, including data from SD card and a broken Android phone. This tool has only Windows version.
Android Only
Android Transfer
Transfer contacts, SMS, photos, music, video, and more between your Android devices and PC / iTunes.
iOS & Android
Phone Switch
One click to transfer data between any two devices that run iOS or Android, including contacts, messages, photos, etc.
Android Only
Android Backup & Restore
Backup data on your Android devices easily and restore backup files selectively to any device.
Android Only
Erase Android Data
Permanently erase all the data saved in your Android devices in a one-click manner, totally eliminating your privacy in donated or discarded devices.
Android Only
Android Unlock
Remove the lock screen from your Android device, no matter you remember the password or not.
Android Only
Android System Repair
Fix various Android issues by yourself, such as black screen of death, Play Store not working, OTA update failed, etc. This tool has only Windows version.
iOS & Android
Restore Social App
Backup your WhatsApp, Wechat, LINE, Kik, Viber chat history and attachment. Transfer WhatsApp messages between iOS & iOS, Android & Android, and iOS & Android.