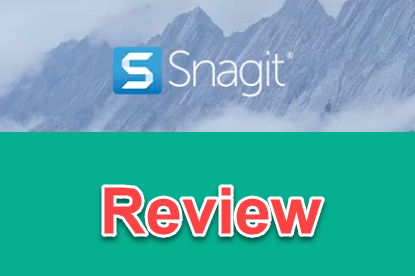 Snagit Review: Gold or Garbage?
What is Snagit?
Snagit is a cross platforms screen capture software for Windows, and Mac, developed by TechSmith, a famous company in screencasting industry. The program offers a wide array of screenshot tools, powerful image editor, plus a lightweight screen recorder. This screenshot tool is cable of taking screenshots on your computer's screen in different modes i.e full screen, window mode, fixed area, scrolling web pages and so many things more.
Like other premium software of TechSmith, Snagit is decent, but not a free software. TechSmith offers 15 days free trial for Snagit users to test the program only. After this period, you can't use the program any more.
Snagit license price starts at $49.95 per lifetime for 1 license (includes 2 installations). Education and government Snagit pricing detail is available on TechSmith's online store.
Snagit Review – Screen Capture Capabilities
First thing first, Snagit is designed for taking screenshots. It's especially useful for those of you who often create software tutorials, operation document. The program is easy to use, and lightweight, compatible to different operating systems (Windows, or Mac). Most importantly, it has some stand-out features (capture scrolling web page, grab text, annotation presets), that you can't see in other free alternatives, or even paid screen capture software on the market.
There are countless uses you may consider once you have Snagit installed on your computer. Honestly speaking, I have not make use of all Snagit's features yet as my main business is making software review, and YouTube videos. I often use Snagit to take screenshots of the program I tested, put some annotations on the images, and some times create a thumbnail for my videos.
Here are the benefits of using Snagit you may want to consider:
Capture your computer screen, an object, an existed file on your computer.
Saving web pages, or image to a PDF file and via versa.
Resize, change the format of your images.
Add steps, annotations, stamps, logos to your captured images.
Sharing program error message to your team.
Converting PDF catalog into a series of images.
Creating GIF file.
Record short video tutorials.
Combine multiple images into one.

Snagit Review – Image Editor
The next part of Snagit I want to mention in this post is its image editor. In my opinion, this image editor is the part that differentiate Snagit with other simple snapping tools on the market. Like the screen capture tool, there are also countless features in this image editor too. Here's the screenshot of Snagit image editor on my computer: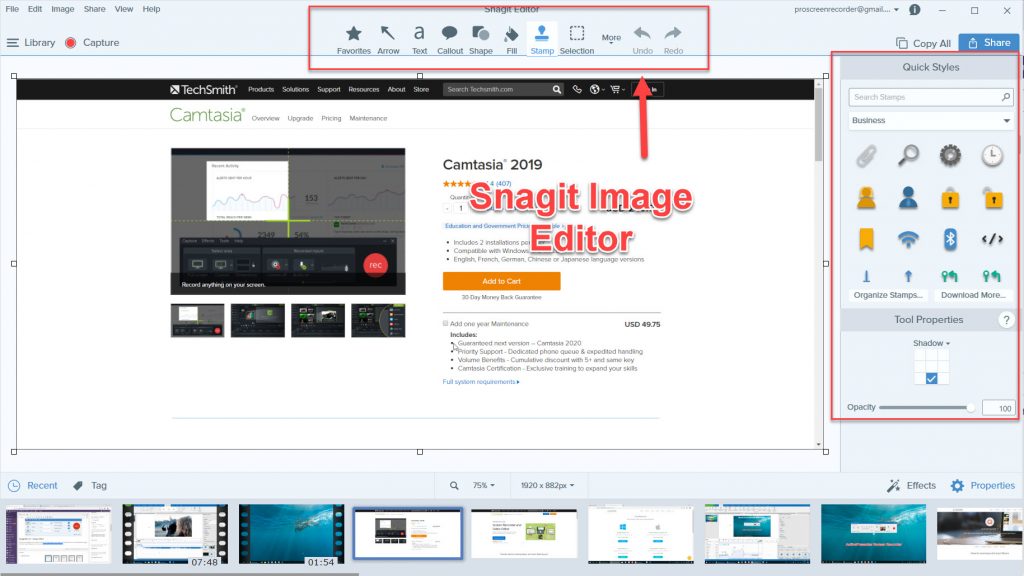 My most often used features in Snagit image editor are adding arrow, adding texts, call outs, and shapes. But, these are not all the tools in Snagit image editor. There are many other hidden features in the program like image effects, quick styles, advance text editor, system stamps and load of cool stuff that I highly recommend you try it yourself. It's not easy to explain all the detail in a short review article.
Snagit Review – Screen Recorder
Snagit screen recorder is a lightweight screen recording tool you can use to record what happening on your computer's screen and save it into MP4, or GIF file. There are not much I can say about Snagit Screen Recorder, as it's not as powerful as the one that I am using on my computer now. To learn more about Snagit screen recorder, take a look at below comparison video I made before:
In Conclusion
Snagit is one of the best screen capture software on the market now. With its intuitive interface, powerful image editor, and load of useful features for making software documentation, it is an great product and worth the money you pay for its license. By the way, don't take my words for it, try it yourself to see how it works! Try Snagit for 15 days