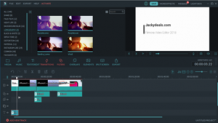 Filmora Video Editor Review, Pros and Cons 2020 Updates
Filmora Video Editor is a simple to use yet powerful video editing software for Windows and Mac. This program includes all necessary tools for making stunning videos with tons of effects and filters. It is free to download and try as long as you want. In this article, we will share with you our honest review about Filmora to help you make your own decision.
Filmora 9, released in December 2018, is the latest version of this affordable video editing software. It has some improvements, compare to the previous version. We've tested it out and here are the keynotes:
Filmora 9 allows you to add up to 100 video/ audio tracks on the timeline instead of just 1 video track in the old version.
You can now able to keyframe your audio instead of just increase/ reduce the audio volume.
Chroma key feature has been improved to give you more control of the effect than in version 8.
Proxies are available to help you get smooth playback when editing high resolution video on low end computer.
Filmora9 video rendering speed is faster than version 8.
Filmora 9 latest version is Filmora 9.4.5 with many powerful features such as Zoom and Pan presets, new title templates, color mark, group clip, audio beat detection etc. Below video shows you all about Filmora 9.4.5 new features and where to download it.
If you want to learn how to edit videos in Filmora 9, watch below tutorial for beginners:
PROS:
Simple to use, lightweight.
Intuitive interface.
Smooth video editing on low end laptop.
Easy to apply effects and filters
Tons of drag-n-drop transitions.
Stylish text title editor.
Powerful audio mixer.
Built-in color grading tools, possible to apply LUTs.
Extra video effect on Filmora's online library.
Load of presets: title templates, video effects, elements, split screen templates etc.
Fast video rendering speed.
Affordable lifetime license price.
CONS:
Watermark in free version.
No motion tracking.
No video keyframe.
No free hand masking tool.
Color grading tool is limited. No color wheel, curve or waveform.
Filmora video editor is one of the most simple to use video editing software programs we've tried. The program offers a wide arrays of basic and advance video editing tools that beginners and casual users would love to use. It's not as powerful as the beasts, Adobe Premiere Pro or Final Cut Pro, but worth the money you pay to get the license ($69.99 per lifetime, and $47.99 only if you use this 31% off coupon code).
I have been using Filmora video editor during the past two years. And honestly speaking, I am very happy with my decision. All in all, Filmora has everything you need to create videos whether you want to make YouTube videos, Vlogs, travel videos, TV shows, or anything else. Its smart interface and workflow allows new users to get familiar with using the program in minutes, not days, like other video editing programs on the market.
With Filmora 9, basic video editing tools such as cut, trim, split videos, adding text title, animations, crop, zoom, add transitions, adjust audio, correct color and so on, are well positioned on the main work space. You don't even need to read the operational document to find these features. Of course, if you will need more practices to be able to edit video faster with Filmora.
Advance tools like Chroma key, video stabilizer, lens correction, video overlay (blending mode), color correction, motion are accessible by double clicks on top of the track you want to apply effect. This work around can save your time and effort if you're new to Filmora. Once you've accessed these basic tools, you can always go to the advance tab to have more control of the effect you want to apply.
When you are done with your project, the program offers various options to render your project such as Create videos, Export to devices or Upload to Facebook, or YouTube. To create a video, you will need to create log in account to start rendering video. After logged in, you can set up your own video export profile easily.
Download Filmora Video Editor For Windows
Download Filmora Video Editor For Mac
Bottom line
If you are video editing beginner or just want to a simple to use program that works, Filmora Video Editor is the right option to go. It is the easiest tool we tested recently. We hope you like the program and share with us your comment here.
Good luck!
Editor's notice: We've updated this article to give you more precise information about the program. Update time: May 04th 2020.