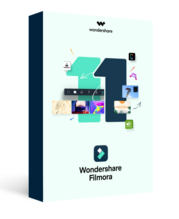 Wondershare Filmora 11 Review, Pros, Cons and Where to Download
Maybe you've seen several ads on YouTube related to Wondershare Filmora, including Filmora 9, Filmora X and Wondershare Filmora 11. And you wonder what these video editing software are and how they work. star.
Not sure if they are different software and most importantly, are they the right video editing software for you?
Don't worry, in this article, I will share all the necessary information about this software to help you better understand them, and more importantly, help you assess if it is right for you. I'll show you the history of versions, the differences between versions, and suggest you the best pricing plan you should choose.
Okay, let's getting started.
Wondershare Filmora 11 is the latest version of Wondershare Filmora video editor
Actually, the promotional videos you see on YouTube about Wondershare Filmora, including Filmora 9, Filmora X or Filmora 11, are aimed at a single video editing software. I also really don't understand why the developer chooses to advertise to mislead users like that. Because in fact, they only have one video editing software called Wondershare Filmora.
Wondershare Filmora 11 is the latest, most up-to-date version and moreover you can only download and install this version from the Wondershare homepage. Filmora 9 and Filmora X versions are defunct. Although you can download them somewhere on the internet, they are not the official versions.
In my personal opinion, Filmora 9 version is too old. You really shouldn't care about it at all. Because Filmora 11 has been improved a lot compared to Filmora 9 already. Even Wondershare also changed the background code of the software to have more space for new, more professional features.
So how is Filmora 11 different from Filmora X?
Honestly, comparing the 2 versions will be quite confusing and difficult to explain, so I will point out the most important features of Wondershare Filmora 11 that Filmora X doesn't have for you to imagine. And of course, you can also check out my video below to better understand these new features. This video I made as soon as Wondershare Filmora 11 was released and now I am continuing to make a lot of Filmora 11 tutorial videos for newbies on my YouTube channel. Drop by and let me know what you think in the comments section.
In short, Wondershare Filmora 11 has been upgraded to a new level compared to Filmora X. It has added some new features that users have been looking forward to such as Audio synschronization, Quick Video Maker from templates and Stock media. Besides, changing to a new background codec also helps the software optimize the hardware when decoding and encode, helping you edit videos smoother, publish videos faster. That's not to mention a lot of new effects, new title templates added to the software.
But not all good things are added. There are some things that are a bit annoying, especially for those of you who are new to the software. Take a look at the good and the bad (in my personal opinion, of course) below:
Wondershare Filmora 11 Pros and Cons
PROS:
Simple to use, lightweight, great for low end PCs, and laptops. Wondershare Filmora 11 has the option to create proxy files as well as the ability to lower the preview quality to get smooth playback if you're editing on low end machines.
Support various input formats and many export options including uploading to YouTube directly, creating DVD option as well as the option to split and merge video without decoding and encoding process.
Video effect like filters, overlays, elements can be applied easily with just drag and drop actions.
Has 400+ different transition effect.
Stylish text title editor (basic and advance edit)
Has built-in music and sound effect.
Advance audio editor, including audio keyframes, audio ducking and audio keyframes as well as the new Audio Synchronization.
Built-in color grading tools, possible to apply LUTs.
Possible to download more free video effect packs from Wondershare's online store.
Load of presets: title templates, video effects, elements, split screen templates etc.
Fast video rendering speed.
Affordable lifetime license price.
Has quick montage maker which helps you make videos easily from built-in templates (new feature)
Has new mask keyframing option which lets you animate shape masks (new feature)
Has new speed ramping (or speed keyframes) for those of you who want to smooth in/out your speed ramping effect (new feature)
CONS:
Watermark in free version.
No free hand masking tool.
Color grading tool is limited. No color wheel, curve or waveform.
There are in-app purchase effects which are not included in the software license such as premium filmstock subscription, Boris FX, NewBlue FX and AI portrait.
There are premium features that you need to purchase a license so that you can use after 3 days free trail i.e keyframing, speed ramping and 4k exporting.
The Bottom Line
Wondershare Filmora 11 is one of the most simple to use video editing software programs we've tried. The program offers a wide arrays of basic and advance video editing tools that beginners and casual users would love to use. It's not as powerful as the beasts, Adobe Premiere Pro or Final Cut Pro, but worth the money you pay to get the license ($79.99 per lifetime, and $63.99 only if you use our exclusive 20% off Filmora 11 lifetime license. For Windows, click here. For macOS, click here.
I have been using Filmora video editor during the past two years. And honestly speaking, I am very happy with my decision. All in all, Filmora has everything you need to create videos whether you want to make YouTube videos, Vlogs, travel videos, game show, educational video, or anything else. Its smart interface and workflow allows new users to get familiar with using the program in minutes, not days, like other video editing programs on the market.
With Wondershare Filmora 11, basic video editing tools such as cut, trim, split videos, adding text title, animations, crop, zoom, add transitions, adjust audio, color correction buttons and so on, are well positioned on the main work space. You don't even need to read the operational document to find these features. Of course, if you will need more practices to be able to edit video faster with Filmora.
Advance tools like Chroma key, video stabilizer, motion tracking, keyframing, video overlay (blending mode), animations are accessible by double clicks on the media that you want to apply effect. This work around can save your time and effort if you're new to Wondershare Filmora. Once you've accessed these basic tools, you can always go to the advance tab to have more control of the effect you want to apply.
All in all, this is a good, worthwhile video editing software and it is especially suitable for everyday video makers like YouTubers, video influencers and amateur filmmakers. If you are one of the above mentioned people, you'll love to use this software. It's available on both Windows and macOS, click the link below to download it for free.
Download Filmora 11 for Windows Download Filmora 11 for macOS
If you want to learn how to use Wondershare Filmora 11, take a look at my Wondershare Filmora 11 Complete Tutorial For Beginners down below:
This article was updated on 04/05/2022. All information in the article is the personal opinion of the author. There are affiliate links in the article. If you purchase from these affiliate links, we may earn a small commission from the seller. The price you pay remains the same. If you have any question about the content, please contact us!