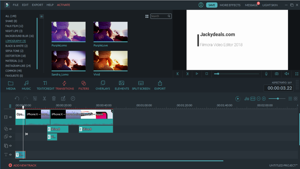 Filmora Video Editor Review, Pros and Cons 2018
Filmora Video Editor is a simple to use yet powerful video editing software for Windows and Mac. This program includes all necessary tools for making stunning videos with tons of effects and filters. It is free to download and try as long as you want. However, the output videos will be watermarked in free version. To remove the watermark, you must buy a license at $59.99 for 1 computer.
PROS:
Simple to use
Easy to apply effects and filters
Offer various output type.
Rending video in high speed
Support 4K editing, Camera shake tool
Offer advanced video editing features like green screen, blur, color grading.
CONS:
Watermark in free version.
Less control on project.
No closed captions.
Filmora Video Editor is one of the most easy-to-use programs of all the ones we tested recently. It has an intuitive interface where you can choose to access simple mode or full feature mode to edit video. The simple mode will allows you to create a video from images still clips by drag and drop the resources into the bin, choose a theme, type a title, add background music and start rendering to finish the project. This mode is quite helpful when you only need to assemble multiple images/clips to make 1 video file.
To have more control of the project, you'll need to access to its full feature mode where you can do many things more with your footage. Take a look at the interface of the program:
In Full Feature Mode, Filmora allows you to change the skin from Light to Dark skin, Timeline mode to Storyboard mode. To edit video in Filmora, I can say that it is the easiest video editing software I've ever used. All the features like cut, trim crop, add transitions, filters, elements, text titles and so on are ready-to-use packages. All you need to do is drag and drop or mouse clicks.
When you are done, the program offer various options to render your project such as Create videos, Export to devices or Upload to Facebook or YouTube. To create a video, you will need to create log in account to start rendering video. After logged in, you can set up video export profile easily.
Take a look at the latest introduction video of Filmora Video Editor to understand more about this program:
Download Filmora Video Editor For Windows
Download Filmora Video Editor For Mac
Bottom line
If you are video editing beginner or just want to a simple to use program that works, Filmora Video Editor is the right option to go. It is the easiest tool we tested recently. We hope you like the program and share with us your comment here.
Good luck!