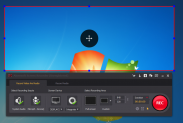 Top 5 Best Screen-casting Software For Windows 10
Screen-cast is a digital recording of your computer screen with audio narration. It can be used for various purposes such as creating how-to videos, online training videos, product demonstrations, software simulations or e-learning courses. In order to create a screen-cast, you'll need a screen-casting software. A screen-casting software doesn't have to be complicated at all. However, there are too many available options you can find out on the internet nowadays. And they are not created equally. If you are not involved in screen-cast industry, it's a little bit hard to define which one is the best screen-casting software for your need. To help you save your valuable time, I've rounded up some of the best screen-casting software for Windows 10 here in this article.  These programs are simple-to-use, safe to download yet powerful enough in making screen-cast for the said purposes.
I recommend that you read careful our below reviews, features descriptions and system requirements of each program before you start downloading any of the listed programs to your computer. There are different programs for Windows 10 32 bit and Windows 10 64 bit in this article.
Top 5 Best Screen-casting Software For Windows 10 (64 bit and 32 bit)
1. ActivePresenter – Best overall screen-casting software for Windows 10
ActivePresenter is one of the most professional screen-casting software for Windows 10 – 64 bit with all necessary tools for making screen-casts no matter what you want to produce. It is simple to use yet powerful for recording video from your computer with audio from the microphone, system sound or your webcam, mouse cursor and so on. The program lets you create full high definition video (1080p) in various formats such as AVI, MP4, MKV, WebM and HTML5. In ActivePresenter, you can also edit recorded videos in its video editor where you can cut, trim, crop, split and merge video easily. Some of the best features in its video editor are Chroma key, text-to-speech, Zoom an pan, picture in picture, closed caption and so on. Adding transitions, animations in ActivePresenter is as simple as any other screencasting programs on the market now.On the other hand, ActivePresenter is also a powerful and low-cost elearning authoring tool for Windows 10. To learn more about ActivePresenter, please refer to our detail review of ActivePresenter here!
Download ActivePresenter Free Here
2. Camtasia Studio 9 – Best professional screen-casting software for Windows 10
Like ActivePresenter, Camtasia Studio 9 is a powerful yet simple-to-use screen-casting software that can be used on Windows 10 (32 bit and 64 bit). The program has been famous all over the world in screen-cast industry for years. It is an all-in-one program which includes a built-in screen recorder plus professional video editing features for making screen-casts, how-to videos or product demos. In Camtasia Studio 9, you can also record everything on your computer with voice-over plus a bunch of advanced video editing tools like Chroma key, zoom and pan as well as dozen of ready-to-use annotations and callouts. Regretfully, you are allowed to try Camtasia Studio 9 within 30 days only. After free trial, you'll need to think about purchasing a license at $249. Learn more about Camtasia Studio 9 here!
View Camtasia Studio 9 Pricing Now
3. Movavi Screen Capture Studio – Best Cheap Screen-casting Software For Windows 10
Movavi Screen Capture Studio is a combination between Movavi Screen Recorder and Movavi Video Editor. These two simple-to-use yet powerful programs give you a chance to record – edit and share video easily. In making screen-casts, you can start with Movavi Screen Recorder to record anything on your computer. Then, you can edit recorded video via its built-in video editor. The editor is as intuitive as Camtasia Studio 9 and can be used for different purposes such as making music video clips, YouTube videos and short marketing videos. Like Camtasia Studio, Movavi also let you try it within 14 days as trial with a watermark on the video. Once you love it, you can purchase a license at $59.95 only. Good price, right? To learn more about Movavi Screen Capture Studio 9, click here!
Download Movavi Screen Capture Studio Here
4. Aiseesoft Screen Recorder – Best Simple-to-use Screen-cast software for Windows 10
Frankly speaking, Aiseesoft is not the most comprehensive software, but its simple-to-use interface and considerate functions for making screen-casts drive it forward. Aiseesoft screen recorder gives you the possibility to record video and audio from your computer in very high quality with ease. The program does not have built-in video editor like above mentioned tools. However, it is free to use and the price for premium license is $27.3 only. Read more review about Aiseesoft screen recorder here! 
Download Aiseesoft Screen Recorder
5. OBS Studio – Best Open Source & Free Screen-casting Software for Windows 10
If you are a fan of open source programs, OBS Studio is your best option for screen-casting on Windows 10. It is completely free to use without any limitation. In OBS Studio, you can record anything from the screen including high fps games, capture screenshot, edit video, add your own watermark to the video and broadcast it live on YouTube or Twitch. Read this careful review to learn more about OBS Studio!
Final Words
Making screen-casts is easy. And it is easier if you have the right tool. Download and install one of the above mentioned programs to start making your first screen-casts and share with me your experience. I'd love to hear from you. If you like this post, don't hesitate to share with your friends.
Good luck!