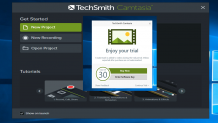 TechSmith Camtasia Review: Is It Worth Your Money?
What is Camtasia?
Camtasia is an all-in-one computer based program for creating screencast videos, online training, marketing videos and other visual content at professional levels. The program has been known as an industry standard for screencasting, being trusted by millions of users all over the world for decades. As an all-in-one desktop based program, Camtasia includes two main parts: Screen recorder and Video Editor. Both tools in Camtasia work perfectly during our test on Windows, and Mac machines.
As a professional screencasting program, Camtasia's license price starts at $249 per lifetime, which is comparably high compared to other similar software we see on the market nowadays. If you are a student, or teacher, you'll be able to purchase Camtasia's education license, which is $169 per license. This price is the same for government.
Camtasia is not a free software. You will have 30 days free trial before making your purchase decision. During this period, you can access to all feature of the program. When you export a video, longer than 2 minutes, the output will be watermarked.
In this review, we'll help you uncover all the most important features of Camtasia to help you make your own decision. Below is my Camtasia tutorial for beginners.
Ok! Let's figure out
How to get download and install Camtasia on your computer?
In order to get Camtasia for 30 days as trial, you'll need to download the program with a register email and answer a simple question to tell them what's your purpose of use. There is no credit card requirement at this step. This procedure is really simple. You don't have to waste a lot of time on downloading it to your computer. Once you got the package, just a few more clicks before you can start your work.
It will take about 5 minutes to install the program depends on your internet connection and your computer's specifications. When the installation is finished, you'll receive a pop-up to remind that your trial period is now started. A watermark is added to videos during the trial period. If you wish to buy the software, you can hit buy now or enter software key.
How Do Camtasia screen recorder and video editor work?
As mentioned earlier, Camtasia has two main parts i.e screen recorder, and video editor. In this article, we'll concentrate as much as possible on these parts.
Camtasia Screen Recorder
Camtasia screen recorder has been known as one of the most powerful video recording program in the world for years. It is simple to use yet powerful enough for creating professional screencast videos at high quality level. Camtasia screen recorder let you record anything from your computer screen with your webcam, audio from microphone in different modes i.e full screen, a fixed region or a locked application. There are other settings about the hotkeys, output resolutions, mouse cursor, real-time annotation tools you can customize on your own too.
We've tested Camtasia screen recorder in various scenarios such as record 20 minutes Minecraft game  as well as record a complete tutorial on how to use a software and a website etc. Everything works fine. The program can do as what they promise. So there is nothing to complain about Camtasia screen recorder now. If we find out any bug during our test, we'll keep you informed. Here is the screenshot of the screen recorder to give you more ideas about it.
Camtasia Video Editor
Whether you start your work by creating a new project or start a new recording, once the process is finished, you'll be redirected to Camtasia video editor. That's how the program works. It's slightly different from other simple recording tools, but similar to a powerful all-in-one program we've reviewed recently, ActivePresenter. Frankly speaking, such kind of process will take more time to finish the project because of the encoding work at the later steps. However, you'll have more chances to edit your recorded videos and add more explanations too.
So, how does the video editor work? First, take a look at the interface of Camtasia video editor:
If you have prior video editing experience, you'll easily recognize that Camtasia video editor looks very much similar to popular professional video editing program on the market now such as Filmora video editor or Magix Vegas Pro. So, that's it! It is a classic timeline video editor with a preview window on the right side. Timeline tracks are at the bottom. Video effects, audio effects, annotation tools, transitions an behaviors are closed to the Media bin. It looks a little bit user interface, but intuitive enough to get things done.
When it comes to video editing, professionals often look at the advanced features of the program rather than just how easy-to-use or intuitive it is. We did go over all the advanced tools in Camtasia video editor and realize the fact that, Camtasia Video Editor is great at the purposes it is created for only. It is not an all-purpose video editing program for sure.
So what you can expect?
Intuitive and simple to use classic timeline editor that anyone can learn easily.
Flexible media bin to arrange your raw footage still images.
Easy editing workflow with drag-n-drop actions.
Simple to add transitions, video and audio effects to your clips.
Has some unique and advanced tools such as color adjustment, noise removal, device frame, border, drop shadow and chroma key.
Possible to add quizzes to Timeline (Some types of questions).
Quite good video rendering speed with different quality (up to 1080p).
Possible to share your project directly to TechSmith's server (Screencast.com), YouTube, Vimeo, Google Drive.
Okay! I think that's pretty much information about this powerful program from TechSmith. I am going to recap what I think about it in the below Pros and Cons of Camtasia
Camtasia Pros
Great online support and tutorial resources: TechSmith has a good technical support team in my opinion. When I have something to ask, the answers are quite fast compare to others I've tested. TechSmith also produce useful video tutorials and upload them to YouTube very often.
Simple to use yet powerful enough for specific purposes: TechSmith did a great job when created Camtasia smart and simple workflow for the purpose of creating online training videos, promotional marketing videos as well as tutorials.
Great ready-to-use resources to help us to create video faster: We love all the ready-to-use annotations, call-outs, intro and outtros TechSmith offers in the new Camtasia.
Camtasia Cons
Despite the fact that Camtasia  can handle the work pretty well. Its license price is a little pricey compare to other similar tools on the market.
No free version. Trial in 30 days only.
Lack of advanced color grading and audio mixer tools.
Do we recommend Camtasia?
It depends! If you are a personal user and you only want to produce some simple videos to upload to your YouTube channel, definitely no need to purchase Camtasia. On the other hand, if you are a professional training video creator or educator, Camtasia is a good choice to go!
View Camtasia 2018 Pricing Now
If you have any other opinions about this program, don't hesitate to share with us. Our comment section is open for discussion.
Good luck!